One of my New Year's resolutions was to invite some friends over for dinner. I tend to find cooking for people quite stressful – not because I don't like cooking but because I'm never quite sure if what I'm going to cook will arrive at the plate looking like it's supposed to!
I decided to shake of my worries and invite my best friend Markus and his partner over for an evening with a Portuguese flavour. I made a big old faithful chili – a tried and trusted recipe that gave me a starting point for talking about how Portugal was a major mover and shaker in the spice trade. For dessert I decided on Tarte de Maça e Creme. Markus had bought previously me a copy of The Taste of Portugal and this recipe comes from there. Obviously, Portuguese wine was on the menu. I chose Dão mostly because it was the only Portuguese wine that was in the supermarket (!) but it's a nice dry red. We followed the meal by watching A Lisbon Story.
Anyway – back to the recipe…
INGREDIENTS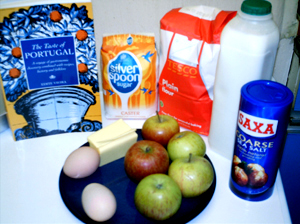 Pastry
6oz Flour
3 oz Butter
Pinch of Salt

Filling
1lb apples (cox or russet)
1/2 pint milk
4 tablespoons caster sugar
2 eggs
1 tablespoon flour
METHOD
1. To make the pastry:-
Mix together the flour and salt.
Rub the butter with your fingertips into the flour until you have a light breadcrumb like texture.
Add enough water to the mixture to make it into a dough. You don't need too much water – maybe about a tablespoon.
Wrap the pastry with clingfilm and leave to rest for 30 minutes.
Notes – I only had coarse salt in as you can see from the photo and I realised this wasn't going to work so I left the salt out. I also only left the pastry for about 10 minutes. Since then, I have read on Delia Smiths website that the reason you leave pastry to rest is so that the gluten in the flour has time to react and make the pastry more elastic and easier to roll out – hmmmm…probably should have read that before but the pastry wasn't too badly behaved.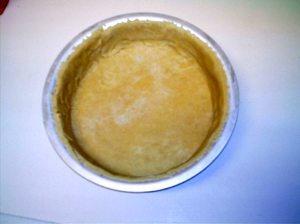 2. Roll out your pastry and press into a tin. I used a 9 inch special French tatin tin greased and floured first. There was just enough pastry to cover it.
3. Next peel and core the apples (oh for an apple corer!) and cut into neat thin slices.
Without an apple corer I found this rather challenging so ended up with nice thin slices of varying shapes! Place the slices neatly (or in my case, haphazardly) in the pastry lined tin.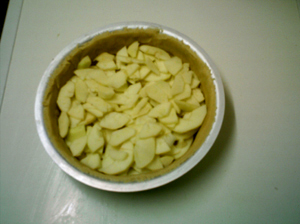 4. Put this into an oven pre-heated to 180 degrees (gas mark 4) for 25 minutes.
5. While this is cooking, whizz together the eggs, flour, milk and sugar for the filling. Once the tart has been in the oven for 25 minutes, take it out and pour over this mixture. As I don't cook a great deal I was worried this very liquid filling wasn't going to set but I can assure you now that it does. Put it back in the oven for another 20 minutes until set and slightly golden. Personally I found that I needed to leave it for about half an hour but that could be down to my very old cooker.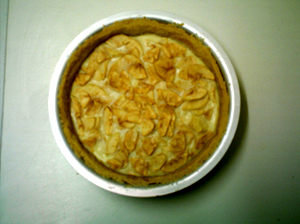 The Tarte can be served hot or cold. I served it cold with cream, a slice of strawberry and a spring of fresh mint. I would however, like to try this hot with perhaps a sprinkling of cinnamon.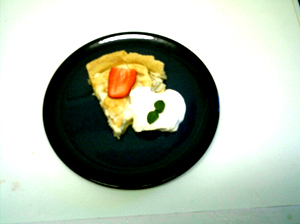 This is a lovely recipe. I tried Tarte de Maça in Portugal from Café Suiça and fell in love with the light cream like custard. I have never liked the custard we have in England. Even when I was at school I would turn my nose up at it. Something that shade of yellow could not possibly be edible!
This Portuguese custard however is a simple sweet creaminess with a delectable texture that goes well with the apples and the crisp pastry.
I had a lovely evening and the food seemed to go down well. It was nice to discover the pleasure of cooking again and of course share my passion for Portugal. I'm sure there will be more posts like this in the future as I try my hand at other Portuguese recipes. Be warned though – desserts and cakes have always been my forté! It probably all stems from the first time my Granny showed me how to make victoria sponge cake when I was about 5, then let me lick the spoon 🙂