I was contacted recently by Pedro Bicudo from the Easy Portuguese Recipes website who offered to write a guest post for In Love With Lisbon. As I know you all love your recipes, I thought this was a great idea! Do check out the website. Not only do Pedro and his cousin Tiago Moniz provide recipes but there are also some excellent videos for those of us who need some extra help with cooking skills!
Over to Pedro Bicudo…

Portuguese cuisine is all about simplicity and enjoyment. Enjoying the act of cooking has always been just as important as the eating of the food itself. Whilst that may not be the protocol of most fine European cuisines, we have always focused on what matters most; flavor and ease to make. We like to use few but flavorful ingredients whenever we cook to get the most taste out of every component.
Desserts are the most widely known aspect of Portuguese cuisine. Almost all Portuguese have a sweet tooth and so we have found many ways to satisfy those needs whether it be cakes, puddings, fruit medleys, or especially – cupcakes. Portuguese cupcakes, known as "Queijadas" or "Pasteis" are the most popular of all Portuguese desserts and so we would like to show you how to make one of the most delicious and traditional cupcakes of them all, Queijadas de Leite.
Queijadas de Leite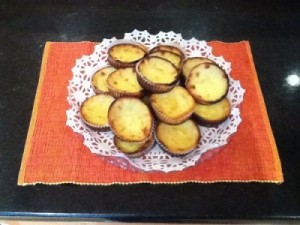 The sweet fragrance of Queijadas de Leite emanates those that are freshly made daily from many Portuguese bakeries. There is no surprise as to why these are some of the most popular Portuguese desserts. These delicious Portuguese cupcakes have the perfect amount of sweetness and an awesome lemony kick to them. They are really simple and easy to make. This is a traditional family recipe which has been enjoyed for many generations in our family and by many Portuguese people for centuries.
Ingredients:
2 cups of sugar
3 eggs
Half a stick of melted butter
3 cups of milk, almost boiling
1 cup of flour
1 Lemon or Orange rind – finely grated
2 cupcake sheet pans
12 Cupcake baking papers
Directions:
1) Beat together the sugar with the eggs, rinds, and melted butter in an machine beater for a couple of minutes
2) Add the milk and flour sparingly until it is will mixed.
3) Butter the cupcake baking papers in the sheet pan and add a little flour before you place the mix into it.
4) Place in the oven at 350 for 45 minutes to an hour.
5) Remove from the oven, place onto a serving platter, and enjoy!
Other great Portuguese Recipes:
http://www.easyportugueserecipes.com/portuguese-papas-porridge-grits/
http://www.easyportugueserecipes.com/portuguese-clams-in-garlic-sauce-ameijoas-com-alho/
http://www.easyportugueserecipes.com/homemade-fresh-cheese-2/
We at EasyPortugueseRecipes.com are two second generation Portuguese-American cousins who cherish our heritage by enjoying the delicious food made for centuries by our ancestors. We want to share all the recipes passed down to us through numerous family recipe books which contain unique and sometimes secret recipes, enjoyed for many generations. We try to focus on the "comfort food" side of Portuguese cooking, rather than difficult to make fine European cuisine.