Once you have visited Portugal and discovered the wonderful cuisine available, you may find yourself missing the tastes and smells of the foods you sampled. Thankfully, the wonder of internet shopping means that we can all find somewhere to purchase some of those fabulous foods.
Perhaps you are a whizz in the kitchen and need to find traditional ingredients, perhaps you are missing the taste of home. Maybe it's just that you can't forget the delicate flavour of Serra de Estrella cheese. Whatever the reason, there are several good online stores which cater to Portuguese food lovers around the world.
Here is a round-up of some of the best places you can buy Portuguese food online.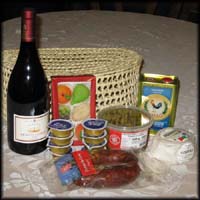 I'll start off with a site for those of you in the UK. Portuguese Food.co.uk is a new online shop catering specifically to the UK market. I thank my colleague at work for this one as he spotted a sticker in the back window of a car advertising the site in Manchester and knowing my endless obsession with everything Portuguese, pointed it out to me the following day!
Portuguese Food.co.uk is a Portuguese run company with a nice range of foods online. They have a good looking, easy to navigate website and a passion for Portuguese food. I emailed the owners and asked them to tell me a little more about the company. Here's what they had to say:-
"We offer a truly unique range of High Quality and specialised produce from various regions of Portugal including our very own Home made branded goods. One such produce is pork in the form of Chorizo & Serrano Ham, which in Portugal is a tradition that has been around for hundreds of years for which Portugal is now famous. Many Portuguese families would cure the meat from a whole pig utilising every part to make a range of delicious cured chorizos packed with herbs and spices.
We supply to UK Restaurants, Hotels and various catering outlets direct from our warehouse in Portugal. We find that the customer experience brings them back for more."
For the vegetarians amongst you, they also offer traditional sea salt, confectionary, beautiful cheeses, olives and of course olive oil. They also offer a Portuguese hamper which would make a lovely gift for your Portuguese friends who live in England.
This is an excellent new site and I imagine they will have more to offer in the future. Note that they also supply wholesale to the restaurant trade as well.
Staying in the UK for the moment, there is also a company called Supermercado Portugal.  They have a physical shop in London as well as an online shop. They stock a huge range of products from food and drink to cleaning products and supply both individuals and wholesale.
Moving on to those in the States now, there is a great website called Portuguese Food.com which has a vast range of products to choose from. If you are missing sweet bread or pasteis de nata, this is where to come. As well as stocking meats, cheeses and condiments, this company also stocks a large variety of products which would be found 'back home'. You can also find hampers and a few kitchen items such as crockery made in traditional Portuguese style. A nice touch to this site is that they also provide a section of Portuguese recipes.
Surprisingly Amazon.com have quite a range of Portuguese foods on offer from a variety of suppliers. I've already done the hard work for you by scouring the site and creating a Portuguese Food section in the Store here at In Love With Lisbon.  You can wander through the virtual aisles by clicking here and then selecting 'Gourmet Food'. 🙂
Last but not least is a site called Amarals Market. Amongst their many products is a large range of cheeses both domestic and imported. They also have a nice selection of traditional marinades and marmalades.
I hope you have enjoyed my round-up of Portuguese food retailers online. Please check the comments section below because some of my visitors have also left recommendations of other Portuguese food stores online. If you know of anywhere else, please do leave a comment.