As an Early Easter descends on us, I decided to try a recipe I found in "A Taste of Portugal".
Easter Sunday is celebrated after the first full moon that occurs after the Spring Equinox. Spring Equinox marks the time when the Sun moves into Aries – Equinox means equal day and equal night. The new festival of Easter harks back to the Pagan festival of Oestre (meaning 'egg') so eggs are traditional at this time of year across the Northern Hemisphere. Eggs are a wonderful symbol for new life and for pondering the big questions i.e. which came first – chicken or egg 🙂
As the sun moves into Aries, the earth gets a vibrant push to produce. The ground begins to warm and new life springs everywhere.
Marking the end of Lent, Easter is a time to indulge in good food and celebration. Regardless of whether or not you are religious, it's an excellent time to let your hair down and celebrate Spring.
Easter in Portuguese is Páscoa and just as we have Hot Cross Buns and Easter Eggs in England, Portugal has it's own traditions for Easter food.
Folar is perhaps one of the best known of Portuguese Easter foods and from what I have seen there seems to be a variety of ways to cook it. Folar is typically associated with having a boiled egg (or few) embedded into the top of the bread and held in place by a cross of bread dough. Most of the recipes I have seen are slightly sweet and contain cinnamon although I have seen reference to savoury breads as well which include meats.
INGREDIENTS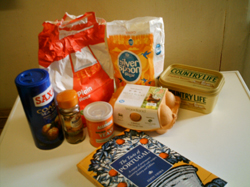 14oz (400g) Flour
1/2 oz (15g) Fresh Yeast
1 1/2 (45g) Caster Sugar
3oz (90g) Butter
1 Large Egg
1/2 pint (300ml) Milk
1 teaspoon Powdered Aniseed
1 teaspoon Cinnamon
1/2 teaspoon Salt

For Decoration
2 hard boiled eggs
1 beaten egg for brushing
METHOD
1. In a bowl combine the yeast, 1/4 of the flour, a 1/3 of the milk (warmed) and half the sugar.
2. Mix together to make a dough, cover and leave in a warm place for 1/2 hour
3. Beat the eggs with the salt and spices and remaining milk and sugar.
4. Kneed in the flour and egg mix to the dough gradually.
5. Kneed in the butter. The dough should not stick to the side of the bowl.
6. Cover the dough and leave it to rise for about three hours in a warm place.
7. Break the dough into two (or leave whole) and plant the eggs on top. Make a cross with two rolled lengths of dough to put on the top, holding the egg in place.
8. Brush the bread with the beaten egg.
9. Cook at 210c/425F/Gas 7 until golden brown.
Sounds simple doesn't it?
What I discovered when I was setting up the photograph of the ingredients (yes I did forget to put the milk in the picture) was that I hadn't read that the recipe called for fresh yeast and what I had was dried yeast. I attempted to use the dried yeast but found that the mixture was far wetter than it should have been. To compensate, I ended up using a lot more flour which made the final result rather doughy. This sorely tried my patience – especially when I had to leave halfway through to go and buy some more flour from the shops!
Anyway – aside from this problem, my Folar did turn out rather nicely. I personally am not that keen on aniseed so I did leave this out. In retrospect I would definitely use fresh yeast, not only to keep the consistency but also the avoid the stench of readying dried yeast for cooking – uggh!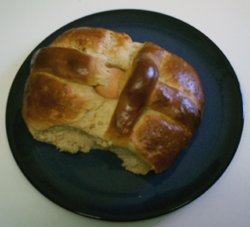 I really like this recipe as you can really make it your own. Whilst it might not quite be to Portuguese tradition, why not embrace your inner child and paint your boiled egg with food colouring? I've seen quite a few pictures of breads from other places made like this and they do look very attractive. This is what I'm planning on doing next time 🙂
Whilst researching Folar, I also came across a couple of other recipes for Easter that you might be interested in. One is Ninho de Pascoa (Easter Nest) which is a cake made to look like a birds nest. Such a wonderful idea for Spring celebrations! This is certainly a cake I would like to make as it could involve a lot of play. I imagine just using a simple sponge mix would suffice, scoop out the top, add chocolate eggs and decoration and there you go. There's a lovely example here (in Portuguese) and here (also in Portuguese)
Happy Spring and Happy Easter everyone!