He said "If you ever go to Portugal you must look down – the pavements are pictures and patterns, beautiful patterns". So I went to Lisbon and looked down and watched my feet tread the black and white intricately woven tiles.
In the sunlight the pavements seem to glow. Thousands of footsteps have worn down the oldest streets to an almost glassy finish. Sometimes I had the curious sensation that the pavements were soft beneath me even though this was simply the sensation of walking upon something so smooth. At other times I had the sensation that I was walking on ice and had to walk slowly in summer sandles that had little grip! Special care needs to be taken on steep downhill slopes.
The makers of the paths (calceteiros) were true craftsman. Made from dark basalt and white limestone, laying these tiles was a time consuming, back breaking low paid job. Sadly it seems to be a dying trade these days.
The mosaic streets of modern Portugal began with Lieutenant-General Eusebio Furtado who instigated the paving of the main square in Lisbon's centre Praça Rossio who commissioned the famous pattern known as "mar largo". They are found across Portugal and in former Portuguese colonies such as Brazil. Whilst it may be that these streets where inspired by the geometric patterns of nature, there are also suggestions that perhaps the patterns gave some kind of mystical protection.
Much like the Azulejos, the mosaic streets are part of Lisbon's charm and character and there are some wonderful examples that shouldn't be missed.
Here is a list of the best of Calçadas Portuguesas (Portuguese Pavements)
Praça Rossio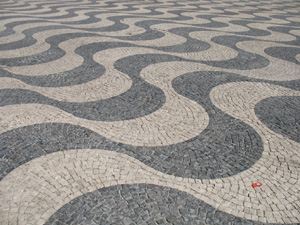 Photo by timcowlishaw on Flickr
Avenida de Liberdade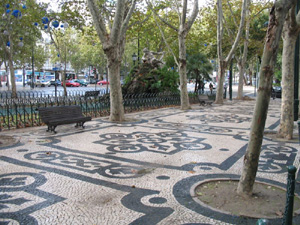 Photo by Greerbie on Flickr
Padrão dos Descobrimentos
In the Belém parish of Lisbon lies the Monument to the Discoveries. In front of the monument lies the "wind rose", a giant mosaic which holds a map of the world at it's centre with the routes of some of the great Portuguese explorers. It was given to Portugal by South Africa in 1960.
Rua de Augusta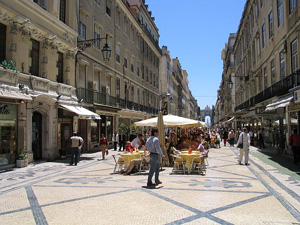 Photo by dasilva_aida on Flickr
Restauradores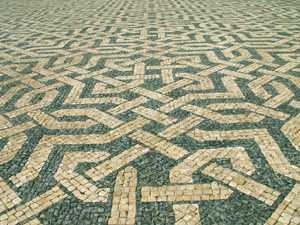 Photo by jaime.silva on Flickr
On Mayang's Free Textures site there are some Portuguese entries on this page
For further reading also check out
Póvoa de Varzim's Runes